Create your own personal Wiki with XWIKI!!
4220
6
37
24.06.2021
2180128
14300
244
25.05.2017
US
If you like what you see..... buy me a coffee! 🤍🤍buymeacoffee.com/c1THy8VNA Visit my Teespring store front as well..... 🤍burns-home-automation-2.creator-spring.com/listing/burns-home-automation If you are looking for VPN service check this out... 🤍🤍ipvanish.com/?a_bid=48f95966&a_aid=5f84846c83d0b Join Robinhood with my link and we'll both get a free stock 🤍join.robinhood.com/adrianb-254864 This video a tutorial on how to install Xwiki in a docker container to use to document your Smart Home setup!! Here are a few links to get you started.... 🤍github.com/burnshomeautomation/HomeAssistant-Config 🤍hub.docker.com/_/xwiki 🤍xwiki.com/en/Blog/HowtoinstallXWikiusingDocker/ (0:00) Intro (2:16) Let's start by going over some prerequisites. sudo mkdir xwiki networks: xwiki-nw: driver: bridge (4:37) Now we are ready to setup the first container in docker. mysql-xwiki: command: "mysqld character-set-server=utf8 collation-server=utf8_bin explicit-defaults-for-timestamp=1" container_name: mysql-xwiki environment: - MYSQL_ROOT_PASSWORD=xwiki - MYSQL_USER=xwiki - MYSQL_PASSWORD=xwiki - MYSQL_DATABASE=xwiki image: "mysql:5.7" networks: - xwiki-nw volumes: - "/home/adrian/xwiki/mysql:/var/lib/mysql" - "/home/adrian/xwiki/mysql-init:/docker-entrypoint-initdb.d" sudo docker exec -it mysql-xwiki /bin/bash mysql -u root -p xwiki -e "grant all privileges on *.* to xwiki🤍localhost identified by 'xwiki'" (9:25) Now that the db container is create, lets setup the frontend. xwiki: image: "xwiki:lts-mysql-tomcat" container_name: xwiki depends_on: - mysql-xwiki ports: - "8180:8080" environment: - DB_USER=xwiki - DB_PASSWORD=xwiki - DB_DATABASE=xwiki - DB_HOST=mysql-xwiki volumes: - /home/adrian/xwiki:/usr/local/xwiki networks: - xwiki-nw (12:13) Now that its installed, let's go over the configuration. (16:51) Lastly, let's set it up in Heimdall! If you like the video, please subscribe to my channel. If you have any questions or comments, hit me up in the comments below. As always, if there are any videos out there you would like to see that I don't already have out there, let me know in the comments as well and I will see what I can do.
Кадры из видео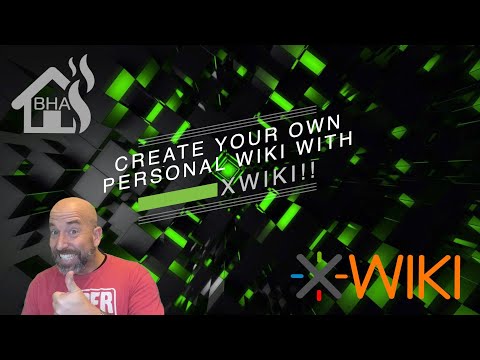 Комментарии пользователей:
Kenneth Brewer
2022-03-21 05:17:41
Can you cover backing up the data? It's really important but I'm having difficulty with it.
Peter Walker
2021-06-28 01:04:59
Thank you so much for doing this. What a great idea, and I hadn't even considered it before. PLUS you turned me on to Heimdall. Thank you again! :)